On the sidebar over to the left! For some reason, I can't get the buttons to show up as pretty as they should be. So, here's the real one: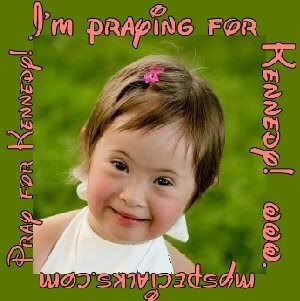 Kennedy is so cute and has been through so much. We hope her surgery today to stabilize her vertibrae is a roaring success and she gets to live a surgery-free, healthy, happy life for many years! Lots of prayers for you beautiful girl!
On the Jackson front, he took 12 steps in a row for his pt on Mon.! We've been trying to repeat that ever since - no such luck! But now he has no excuse; we KNOW he can do it!
I have lots more on my mind but Jack needs attention for now!